The Refined Cook Culinary Series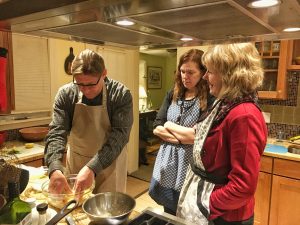 To book, click on dates below. You will be taken to our Eventbrite page for booking. Rate per person: $95 (plus $ 7.35 processing fees). Classes are added frequently, so check back to see our new offerings.
Want a private group class for you and your friends? Visit our Private Group Classes Page.

Note: Ingredients are most often organic, natural or minimally (if at all) processed. We will do our best to keep the ingredients/menu exactly as written, but substitutions may be made occasionally due to market availability and to ensure the freshest produce possible.
asian series
Marlene will show you how to recreate the authentic flavors from her childhood using cookery techniques learned from her family and from traveling extensively, taking culinary classes throughout the region. Classes are often inspired by cuisines from Vietnam, Thailand, Philippines, Japan and China. Asian cuisine is largely gluten-free and one of the tastiest and healthiest cuisines in the world.
Taste of Asia 1: Fresh Vietnamese Shrimp Spring Rolls, Organic Chicken Mango Coconut Curry, Organic Salad Greens with a Soy and Sesame dressing, Steamed Organic Brown Rice, Banana Fritters (Gluten Free)
Fri, Feb 1 Sat, Mar 2

Taste of Asia 2: Thai Organic Chicken and Shrimp Lemongrass Coconut Soup, Chinese Five-Spice Pan-fried All Natural Pork tenderloin Medallions, Sautéed Shanghai petite bok choy, Steamed Organic brown rice, Pandan Coconut Jelly (Gluten Free)
Sat, Mar 16
Oh My, Pad Thai: Shrimp Lemongrass Skewers, Thai Beef Salad, Shrimp Pad Thai, Mango Coconut Sago with Sesame seeds (Gluten Free)
Fri, Jan 4 Fri, Feb 8 Sat, Feb 23 Sun, Mar 17 Fri, Mar 29

Hurry, I Want My Thai Green Chicken Curry: Pork and Shrimp Lettuce Wrap, Grapefruit Salad, Thai Green Chicken Curry, Pandan Coconut Jelly (Gluten Free)
Sat, Feb 16 Sun, Mar 31 Fri, Apr 19
British-Style Indian chicken curry
In this class, we start with one of our fave apps, crisp cauliflower fritters served with an easy-to-make and flavor-packed tomato dip. Learn to make garam masala from scratch, the primary spice blend we will use in our main course: a yogurt-based Indian Chicken curry Marlene grew up with, typically served in British establishments in Manila with an awesome mango chutney even Major Grey would be proud of! A salad of organic greens cleans the palate and we cap the evening with lip-smacking golden-fried apples with an exotic honey drizzle.
Cauliflower fritters, Indian-style Organic Chicken Curry with Mango chutney served over Basmati rice, Mixed Salad greens , Fried apples drizzled with cardamom and Pistachios honey served over Organic Vanilla ice cream (Gluten Free)

A Gourmet's Delight
Get ready to roll out some dough—we're going to make this elegant pizza of organic figs and three cheeses that's an absolute favorite with friends. And that's just the appetizer. Jeff will share a restaurant secret in making perfectly cooked cod loin, and we will prepare a compound butter that's a match made-in-heaven with roasted butternut squash. Finally, we'll cap it with divine cacao and hazelnut cookies with a dollop of our favorite organic ice cream.
Fig and Three Cheese Pizza, Breaded Cod-Loin with white wine and capers, Roasted butternut squash with sage butter sauce, Cacao and Hazelnut cookies served with Alden 's Vanilla Ice Cream
Fri, Jan 18 Fri, April 12

Vegetarian (Gluten-Free)
Roasted Vegetable Lasagna: You're not going to miss meat with this luxuriously decadent vegetarian fare. In this class, we'll learn about soffritto and mirepoix that puts the "classic" in our Tomato Soup and a French sauce that transforms this lasagna into "food for the gods". Finish off with a no-dairy luscious dessert that's super easy to make! This class is gluten free as we will use gluten-free lasagna noodles from Italy.
Cauliflower fritters, Classic Tomato Soup, Roasted (or Grilled) Vegetables with Spinach Lasagna, Coconut Panna Cotta with Organic Berries (Gluten Free)
Fri, April 5 Fri, May 5

VEGAN ASIAn (Gluten-Free)
Healthy Asian cuisine just got healthier! We've designed this cooking class to have all the authentic flavors of Asia without sacrificing the Umami that usually comes from fish sauce. You'll learn about unusual ingredients like agar agar and pandan, roll fresh spring rolls, make your own peanut sauce from scratch, have a soup course that can be a meal on its own with typical Asian garnishes and make a ridiculously easy guilt-free dessert. Would you believe it's gluten-free too?
Fresh spring rolls with peanut sauce, Squash soup with scallions, Sautéed petite Shanghai bok choy with sesame seeds and Pandan Coconut Jelly (Gluten Free)
Fri, Mar 8