The Refined Cook Culinary Series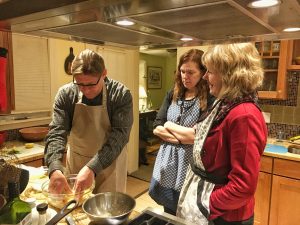 To book, click on dates below. You will be taken to our Eventbrite page for booking. Rate per person: $95 (plus $ 7.35 processing fees). Classes are added frequently, so check back to see our new offerings.
Want a private group class for you and your friends? Visit our Private Group Classes Page.

Note: Ingredients are most often organic, natural or minimally (if at all) processed. We will do our best to keep the ingredients/menu exactly as written, but substitutions may be made occasionally due to market availability and to ensure the freshest produce possible.
special summer class: July/August only
GRill baby grill!
It's all about the grill and enjoying summer's bounty. In this class, we're grilling steak tips, chicken, shrimp and seasonal vegetables and Jeff will share tips and techniques such as brining, that ensure these babies come out tender and juicy. We'll make four different sauces to mix and match–an Argentinian chimichurri reminiscent of Marlene's five –week Patagonian sojourn, Asian style soy-lime sauce, kale pesto and Sriracha butter sauce so that you'll have plenty of options for your next barbecue! In keeping with the theme, we'll make a warm salad of grilled Romaine lettuce with walnuts and blue cheese and finish up with tropical fruit kabobs with a killer rum sauce. Yeah, it's summer alright!
Grilled Steak tips, Gulf Shrimp, Organic Chicken and Seasonal Vegetables with four sauces/ dips served over organic rice, Grilled Organic Romaine Lettuce with walnuts and blue cheese, Tropical Fruit Kabobs with Rum Sauce (Gluten-free)
July 20 Fri July 27 Fri Aug 10 Fri Aug 24 Fri
Classes below will resume in Fall/Winter; schedules to be posted in August
Taste of Asia
Marlene will show you how to recreate the authentic flavors from her childhood and from traveling extensively throughout Asia. Classes are often inspired by cuisines from Vietnam, Thailand, Philippines, Japan and China. Asian cuisine is largely gluten-free and one of the tastiest and healthiest cuisines in the world.
Asia 1: Fresh Vietnamese Shrimp Spring Rolls, Organic Chicken Mango Coconut Curry, Organic Salad Greens with a Soy and Sesame dressing, Steamed Organic Brown Rice, Banana Fritters (Gluten Free)

Asia 2: Thai Organic Chicken and Shrimp Lemongrass Coconut Soup, Chinese Five-Spice Pan-fried All Natural Pork tenderloin Medallions, Sautéed Shanghai petite bok choy, Steamed Organic brown rice, Pandan and Coconut Jelly (Gluten Free)

British-Style Indian chicken curry
In this class, we start with one of our fave apps, crisp cauliflower fritters served with an easy-to-make and flavor-packed tomato dip. Learn to make garam masala from scratch, the primary spice blend we will use in our main course: a yogurt-based Indian Chicken curry Marlene grew up with, typically served in British establishments in Manila with an awesome mango chutney even Major Grey would be proud of! A salad of organic greens cleans the palate and we cap the evening with lip-smacking golden-fried apples with an exotic honey drizzle.
Cauliflower fritters, Indian-style Organic Chicken Curry with Mango chutney served over Basmati rice, Mixed Salad greens , Fried apples drizzled with cardamom and Pistachios honey served over Organic Vanilla ice cream (Gluten Free)

Seafood Delight
This is an eclectic menu that combines flavors and ingredients from Asia, South America and Europe. We'll start with a nutrient-dense power greens soup with the probiotic qualities of miso that's bound to give your health a jump start while preparing Quinoa salad that Marlene and Jeff first had in Cuzco, Peru. Jeff will share a restaurant secret in making this perfectly cooked cod loin, and we will prepare a compound butter that's good on anything and everything to accompany the broccoli side dish. Finally, well cap it with a guilt-free, delicious dessert that will knock your socks out.
Mixed Organic Greens Soup with Miso, Nut-encrusted Cod Loin, Sage butter Broccoli, Peruvian Quinoa Salad, Coconut Panna Cotta with Organic Berries (Gluten Free)

Vegetarian (Gluten-Free)
Roasted Vegetable Lasagna: You're not going to miss meat with this luxuriously decadent vegetarian fare. In this class, we'll learn about soffritto and mirepoix that puts the "classic" in our Tomato Soup and a French sauce that transforms this lasagna into "food for the gods". Finish off with a no-dairy luscious dessert that's super easy to make! This class is gluten free as we will use gluten-free lasagna noodles from Italy.
Cauliflower fritters, Classic Tomato Soup, Roasted (or Grilled) Vegetables with Spinach Lasagna, Coconut Panna Cotta with Organic Berries (Gluten Free)
VEGAN ASIAn (Gluten-Free)
Healthy Asian cuisine just got healthier! We've designed this cooking class to have all the authentic flavors of Asia without sacrificing the Umami that usually comes from fish sauce. You'll learn about unusual ingredients like agar agar and pandan, roll fresh spring rolls, make your own peanut sauce from scratch, have a soup course that can be a meal on its own with typical Asian garnishes and make a ridiculously easy guilt-free dessert. Would you believe it's gluten-free too?
Fresh spring rolls with peanut sauce, Squash soup with scallions, Sautéed petite Shanghai bok choy with sesame seeds and Pandan Coconut Jelly (Gluten Free)