The Refined Cook Culinary Series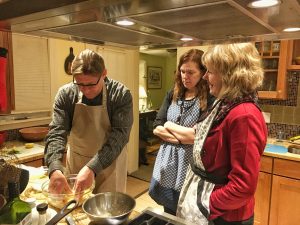 To book, either click on dates below or on our Calendar. You will be taken to our Eventbrite page for booking. Classes are added frequently, so check back to see our new offerings.
Want a private group class for you and your friends? Get a group of six to eight and let's make a date!

Note: We will do our best to keep the ingredients/menu exactly as written, but substitutions may be made occasionally due to market availability and to ensure the freshest produce possible.
Taste of Asia
Marlene will show you how to recreate the authentic flavors from her childhood and from traveling extensively throughout Asia. Classes are often inspired by cuisines from Vietnam, Thailand, Philippines, Japan and China. Asian cuisine is largely gluten-free and one of the tastiest and healthiest cuisines in the world.
Asia 1: Fresh Vietnamese Shrimp Spring Rolls, Organic Chicken Mango Coconut Curry, Organic Salad Greens with a Soy and Sesame dressing, Steamed Organic Brown Rice, Banana Fritters (Gluten Free) : $65
May 13 Sat, July 25 Tue, Aug. 25 (private class), Sept. 8 Fri

Asia 2: Thai Organic Chicken and Shrimp Lemongrass Coconut Soup, Chinese Five-Spice Pan-fried All Natural Pork tenderloin Medallions, Sautéed Shanghai petite bok choy, Steamed Organic Jasmine brown rice, Pandan and Coconut Jelly (Gluten Free) : $65
July 21 Fri, Sept. 22
Around the world
Vive La France! : In Spring 2016, Marlene did a month-long immersion in the South of France working on an organic farm, performing in a concert and cycling through the Dordogne region. This menu commemorates the first anniversary of this trip, inspired by French meals over the years. We will finish with a take on a Parisian icon, Crêpe Nutella, except the nutella here is home-made (gianduja).
Creamy Asparagus soup with Smoked Salmon and crème fraîche, Pan fried scallops in a Pernod cream sauce, Sautéed Organic Beets, carrots and Beet greens, Banana and Hazelnut Chocolate Crêpe (a la Nutella) (Gluten Free): $75
July 7 Fri, Sept. 15

Flavors of the Middle East: "The way to a man's heart is through his stomach." We think one of the easiest and most definitely delicious way to begin to appreciate a different culture is through its traditional cuisine. In solidarity with our Muslim brothers and sisters, we've designed a menu inspired by one of the oldest cuisines in the world. Our featured dessert, Atayef, usually makes its appearance in the month of Ramadan (May 26-June 25)
Fattoush Salad with Za'atar dressing, Herb-crusted Rack of Lamb lollipops, Israeli Couscous with Parsley, Baked Tomatoes with Herbs and Fig Atayef with Pistachios and Cardamom Honey. $85
June 17 Sat

Seafood Delight
This is an eclectic menu that combines flavors and ingredients from Asia, South America and Europe. We'll start with a nutrient-dense power greens soup with the probiotic qualities of miso that's bound to give your health a jump start while preparing Quinoa salad that Marlene and Jeff first had in Cuzco, Peru. Jeff will share a restaurant secret in making this perfectly cooked cod loin, and we will prepare a compound butter that's good on anything and everything to accompany the broccoli side dish. Finally, well cap it with a guilt-free, delicious dessert that will knock your socks out.
Mixed Organic Greens Soup with Miso, Pistachio-encrusted Cod Loin, Sage butter Broccoli, Peruvian Quinoa Salad, Coconut Panna Cotta with Berries (Gluten Free): $75
May 31Wed, July 15 Sat
Vegetarian
You're not going to miss meat with this luxuriously decadent vegetarian fare. In this class, we'll learn about soffritto and mirepoix that puts the "classic" in our Tomato Soup and a French sauce that transforms this lasagna into "food for the gods". Finish off with these unusual macaroons that are both fun and easy to make! This class is gluten free as we will use gluten free lasagna noodles from Italy.
Cauliflower fritters, Classic Tomato Soup, Roasted (or Grilled) Vegetables with Spinach Lasagna, Chocolate-dipped Coconut Macaroons (Gluten Free): $75
Aug. 11 Fri