Holiday Gift Certificates

The gift that keeps on giving! Gift certificates are available for The Refined Cook Culinary Series ($95/person) and "No More Ramen!" ($125/person) Cooking Classes.
Gift certificates are valid until 10 months from issue date. Sample certificates: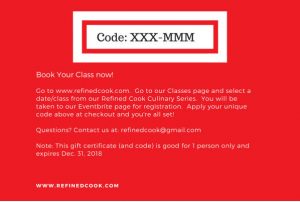 To order, you can either go to our Eventbrite page, or if ordering 3 or more, save on Eventbrite processing fees and contact us at: refinedcook@gmail.com and let us know:
Which certificate/s you would like to order.

Email address and name of recipient/s.
Your Name, email address and phone # (as a secondary contact in case we need to reach you)
We will send you an invoice and paylink based on your order. After payment is received, we will send you an email with the pdf of certificate (and unique code) which you can forward or print to give to recipient/s.