To keep our foodie community going, The Refined Cook is offering to free online events while we're sheltering in place. We believe it's important to keep connected in these crazy times, so please join us!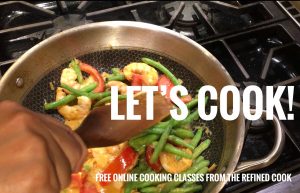 Let's Cook! free interactive online cooking classes.
Tuesdays @ 5pm ET
We're all sheltering in place and though we've cancelled our cooking classes there's no reason we can't still cook together, virtually. So while we're stuck at home, you can join us–to cook or just watch. We'll post the menu, ingredients and tools needed a few days before should you want to cook with us based on what's available in our fridge/pantry. We're being creative, so we'll figure out how to work with what's on hand, like how to incorporate leftovers in our dishes. It's interactive, which means we can answer questions and check on how you're doing. We're keeping it simple–it might just be a sauce or condiment, or it could be one or more dishes–whatever it is, it will be healthy and delicious! So the class can be anywhere from 30 mins to an hour and a half. See photos below.
Register for free here
For the latest updates, follow us on Facebook and Instagram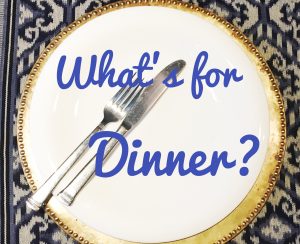 What's For Dinner? an online foodie forum
Thursdays @ 1pm ET
Tired of the same old pasta and beans while you're responsibly sheltering in place? Join us for half an hour online as we discuss creative and healthy ways of using what's in your fridge and pantry. Let's share ideas on short cuts and how to extend leftovers in fun ways. Or, we can just shoot the breeze, vent on flour being out of stock, yada yada. It's a fun way to keep the conversation going, and best of all, just connect.
PHOTOS of our Let's Cook! launch on 3/31